PPE & Socks
We have a comprehensive range of disposable and reusable head-to-toe garments and accessories designed to reduce exposure to workplace hazards while also providing safety, comfort, and durability for your customers.
Cleanroom Garments
SMS / Microporous Polypropylene
We offer a variety of SMS and microporous polypropylene cleanroom garments with different levels of comfort, breathability, durability and protection to meet your specific needs. They include coveralls, lab coats, gowns, smocks, hoods, sleeves, beard snoods, booties.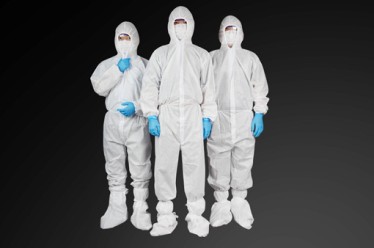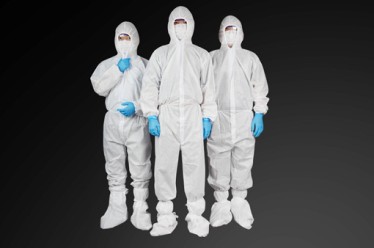 • Material: SMS, microporous polypropylene
• Construction: Non-woven
• Weight: 55 gsm, 60 gsm, 65 gsm
• Seams: Serged, taped, bound, ultrasonically welded
• Size: Standard and custom sizes
• Application: Single-use
• Packaging: Individually packed, stacked


• Breathable and comfortable to wear
• Abrasion resistant
• Splash and dry particle protection
• Low levels of particles
• Lot to lot traceable


Recommended for ISO Class 5 and above environments